Regional Tourism
Showing the world how Tulsa Inspires.
The Chamber's destination marketing organization, Tulsa Regional Tourism, leverages northeast Oklahoma's competitive identity to market Tulsa as a destination for tourism, sports and culture.
VisitTulsa is the city's convention and visitors bureau housed at the Tulsa Regional Chamber. Through sales and marketing strategies, VisitTulsa increases the number of tourists to northeast Oklahoma and drives increased hotel occupancy.
The Tulsa Sports Commission is a sports sales and marketing organization under Tulsa Regional Tourism. The commission increases Tulsa's profile as a market for top-tier market for amateur and collegiate competitions.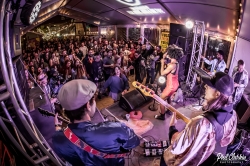 The Tulsa Office of Film, Music, Arts & Culture (Tulsa FMAC) is an accredited film commission through the Association of Film Commissioners International. In addition to supporting 32 productions in FY2018-19 alone, Tulsa FMAC also markets Tulsa at premier events for culture and creativity like South by Southwest and the Sundance Film Festival.